Exhibition
The symbiosis art festival
The symbiosis art festival "Going on a Trip,Getting Ready" traveling exhibition
finished
Venue:FUKUCHIYAMA Community Plaza 3F Citizen's Exchange Space & Gallery Space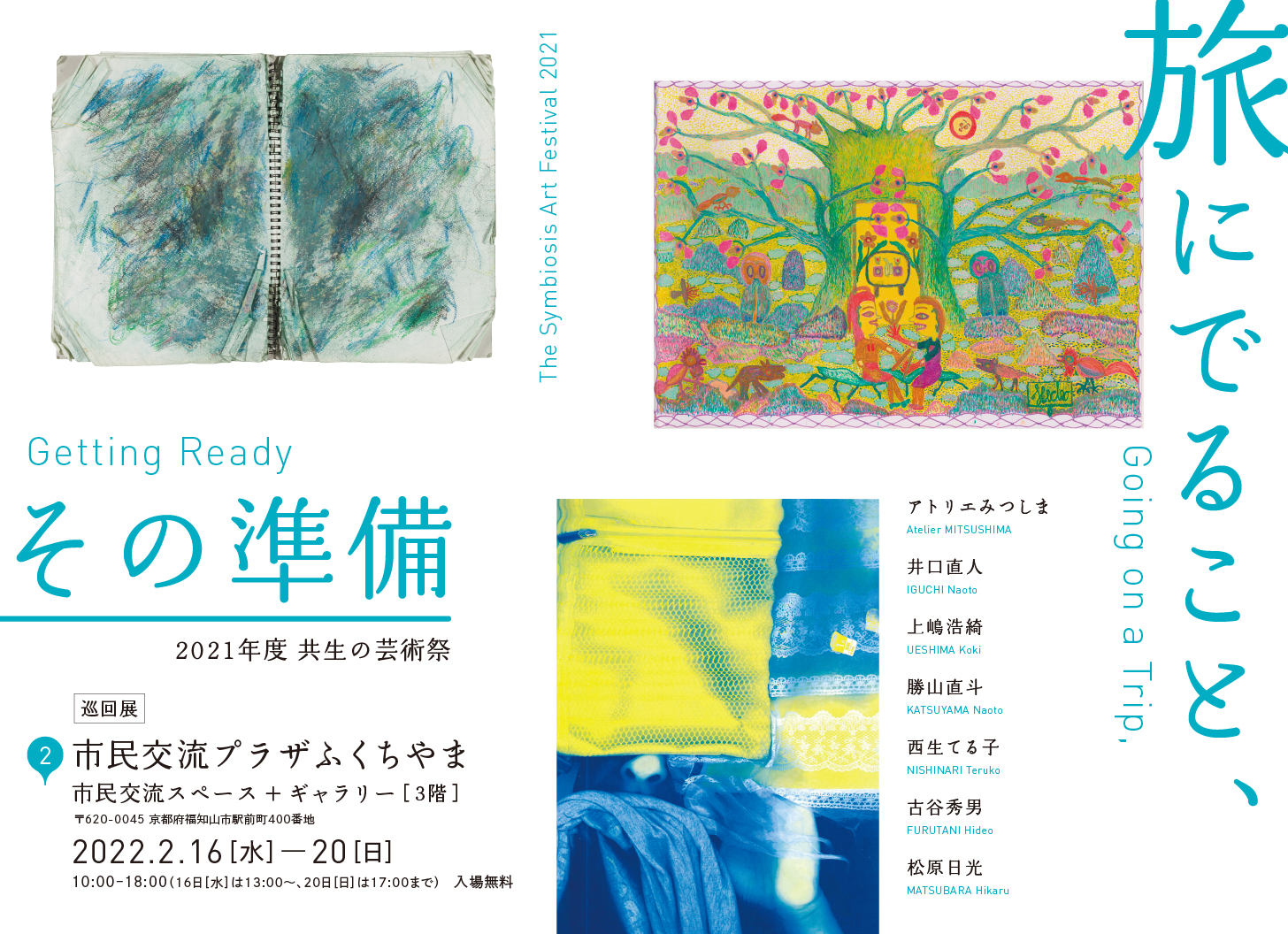 Going on a trip. Departing from here, wondering around the places that you don't know, meeting the new cultures, perceptions and people, moving forwards while occasionally taking a pause. Travelling brings with it diverse ways of being and perspectives on the world, and makes your everyday life fruitful.
However, physical travelling might not be as easy as we imagine it, depending on how flexible you are. Yet, even though you might be unable to go somewhere far away, you are instead able to imagine what the undiscovered place will be looked like. That act would be a form of preparation for going on a trip, and that in itself will lead you to somewhere that isn't here.
In this exhibition, titled "Going on a Trip, Getting Ready.", the expressions of seven different groups of people with disabilities will be introduced. To treat us as each different individuals who obtain each different experiences and perceptions, time, and ways of thinking. If these differences exist, those of us who live with others can be as a traveler between them. Their expressions are sure to help us rediscover the diversity and richness of their world views. That will help us to see a view differently from the one we see right now, and to transform it beautifully, taking us to the future that we anticipate to come.
*This is a traveling exhibition of exhibitions held at Kyoto City Museum of Art Annex from December 9th to 26th.
Schedule
2022-2-16(wed)–2-20(sun)
10:00-18:00
* From 13:00 on the first day
* Until 17:00 on the last day
Venue
FUKUCHIYAMA Community Plaza 3F Citizen's Exchange Space & Gallery Space
access

Artist
Atelier MITSUSHIMA
IGUCHI Naoto
UESHIMA Koki
KATSUYAMA Naoto
NISHINARI Teruko
FURUTANI Hideo
MATSUBARA Hikaru
Related Event
The symbiosis art festival "Going on a Trip,Getting Ready"
Traveling Exhibition
Date:2022.12.9 thu – 12.26 sun
Venue:Kyoto City Museum of Art Annex 1F Exhibition room 1
Organize
Kyoto Culture and Art Promotion Organization for People with Disabilities
Cooperation
Social Welfare Corporation Safurankai Safuran Seikatsu-en
Social Welfare Corporation Yamatokai Yamato Kogen Taiyo no Ie
Able Art Company
Social Welfare Corporation Kumiaien Kumigakuen
Atelier MITSUSHIMA
Social Welfare Corporation Minami Yamashiro Gakuen
Employment Support Facility Village REN
(in no particular order)
To visitors
Art space co-jin carries out new safety regulations, including frequent ventilation,
sanitation and disinfection of common objects such as door knobs and pens, and staff
are all wearing masks during operating hours.
Here are the measures we are taking for COVID-19 prevention. We thank you very
much for your kind attention and cooperation.

●Reschedule your visit if/when you feel unwell.
●Wear a mask and use hand sanitizer when entering the gallery
●We may limit the number of people who can enter to avoid crowding
●Leave your contact information in the event of an infection cluster occuring
Records of Exhibition