Arte Della Luce Ⅱ Kanon Nishikyogoku Workshop Exhibition
finished
Venue:Art BruTo Gallery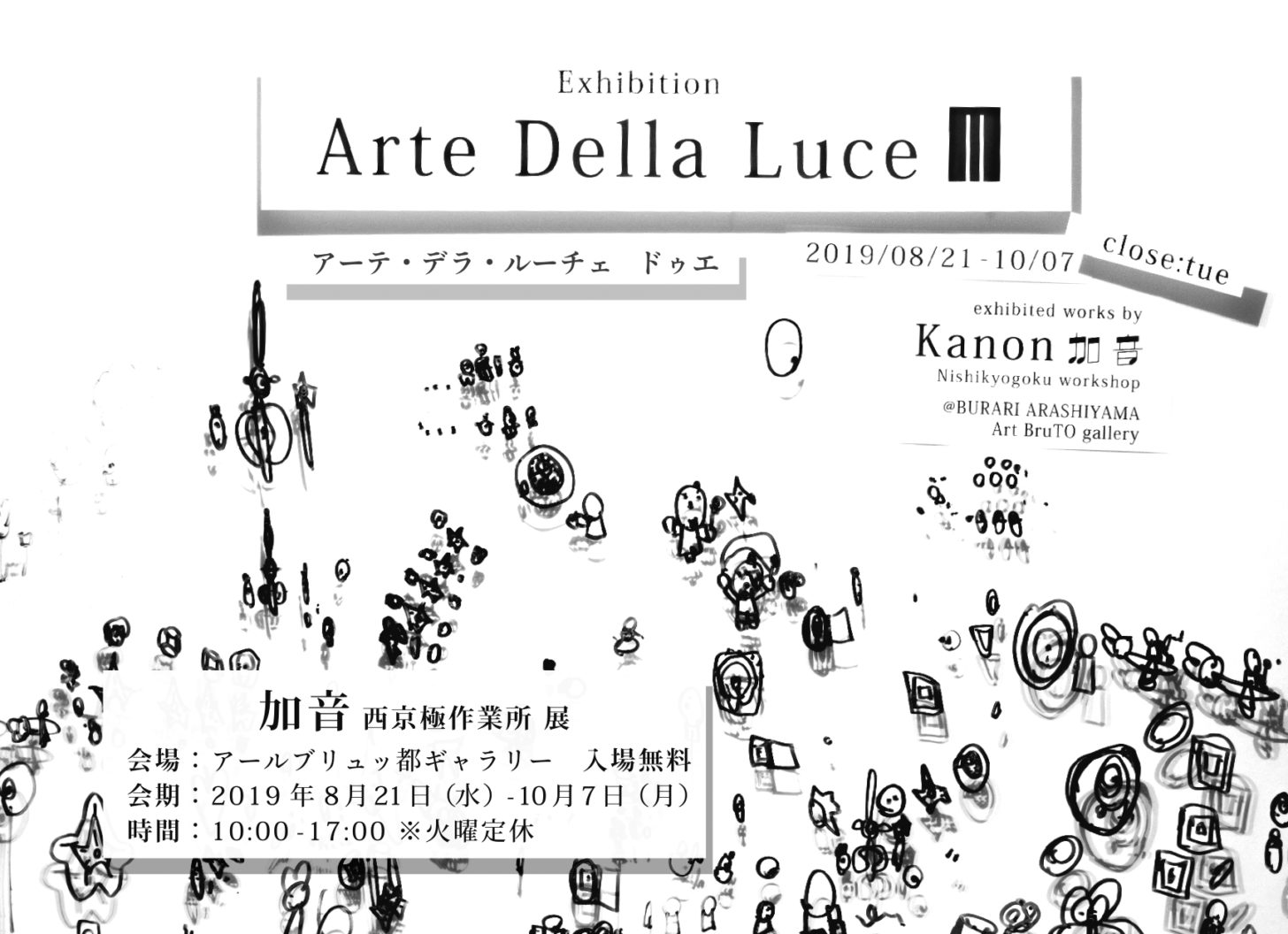 In the working support facility,Kanon, a "creative club" was established to prioritize opportunities for every person to express themselves. The Arte Della Luce Ⅱ exhibition showcases works by 11 artists created by those with cognitive developmental disabilities by lighting up their rich inner worlds,full this exhibition space with color.
By viewing the world thorough diverse expressions that show the perspectives of each artists,we can come into contact with the gentle.tender,but relentless truth.
*Arte Della Luce = Art of Light
Organized by : Kyoto Culture and Art Promotion Organization for Peope with Disabilities.
Schedule
2019-8-12(mon)–10-7(mon)
closed Tuesdays
10:00 – 17:00
Venue
Art BruTo Gallery
〒616-8374
Heart Plaza Kyoto, 18-1 Kitatsukuri-michi-cho, Saga-tenryuji, Ukyo-ku, Kyoto City
access

Exhibitors
Yusuke Ishikawa
Shinya Watanabe
Mamemi
Akihiro Yoshida 
Suguru Osamura
Misa Magara
Motoki Murai
Kanae Hattori
Takeshi Tsujimura
Shotoku Sugawara
Yumiko Izukawa
In cooperation with: Kanon Nishikyogoku Workshop
For enquiries, contact: art space co-jin

Cooperation
Non Profit Organization Kanon Nishikyogoku Workplace